SVARA Field Day 2011
June 25-26 @ Richland Township Park

Field Day Photos and Stories from 2010, 2009, 2008, 2007, 2006, 2005, 2004


The Amateur Radio Field Day is a time where Radio operators from all over North America (and some other countries too) set up portable radio stations and run them on emergency power. Then they try to talk to as many other radio stations as possible.

Thank you to all that participated in this years Field Day.
And special thanks to all the dignitaries that came out to give us some extra points.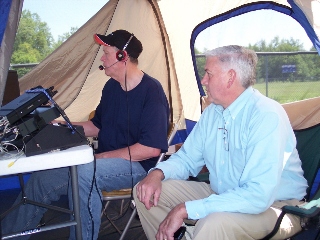 State Representative - Ken Horn
2011 Field Day Report from Dave , W8DW
Call Used: K8DAC
GOTA Station Call: KD8KDP
ARRL/RAC Section: MI Class: 6A
Participants: 23
Club/Group Name: Saginaw Valley ARA
Power Source(s): Generator, Battery, Solar
Power Multiplier: 2X

Bonus Points:
100% Emergency power 600
Media Publicity 100
Set-up in Public Place 100
Information Booth 100
W1AW Field Day Message 100
Natural power QSOs completed 100
Site Visit by invited elected official 100
Site Visit by invited served agency official 100
GOTA Bonus 0
Submitted via the Web 50
Total Bonus Points 1,350

Score Summary:
CW Digital Phone Total
Total QSOs 171 164 328
Total Points 342 328 328 998

Claimed Score = 1,996
---
2011 Photos from N8ERL
Directions to Location:
Field Day is held at the Richland Township Park. The park is located off Hemlock Rd, north of M-46 in Hemlock, MI. From Saginaw, go West on M-46 to the traffic light in Hemlock and turn right (North). The entrance of the park is across the street from Hemlock High School which sits on the West side of the road. This is a dirt road that leads back to the park. The set up area is located in the grass area between the parking lot and ball fields.