March Harmonic Newsletter
available now!

(2/26/18)
Update: Mike K8AVJ has taken over the Harmonic Newsletter
Thank you to Rob KC8IJN for all your hard work over the years.

Spring Skywarn Training
Coming March 29, 2018 at 7 pm
Thomas Twp. Public Safety Building, 8215 Shields Ct.
Saginaw (near Meijers on Gratiot)

Announcement from the ARRL
Michigan Section Manager Position OPEN


New Repeater Updates
February 2018
FYI
Davenport Manor is undergoing electrical updates so
the receive site at that location may be off-line intermittently.
Higher power may be needed to reach the Gera or Hemlock sites
if Davenport is off line.

New Repeater Updates

(3/7/2018)
March 2018:
Covenant North receive site has been installed.
This site provides better coverage to MBS airport,
Freeland and the north part of the county.
November 2017:
The 147.240 Repeater has been migrated to the New Repeater System.
Testing and tuning of the system will take several weeks or more,
so please be patient while this process takes place.
Also the Echolink has been moved to
the new system as well.
Note 2 - We now have the 6 meter repeater online.
51.860 rx, 51.380 tx, PL 103.5 on the receive.

View new updates here
Video of equipment and testing


Antenna work at 911
November 11, 2017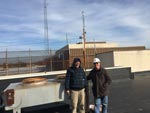 A new HF 80-10 meter folded di-pole
antenna was installed at 911.
Thanks W8DW, N8ERL and KC8YVF


Board Meeting Schedule
Location: Biggby Coffee, 3085 Bay Rd
Thursday March 15, 2018 @ 7 pm
Thursday April 19, 2018 @ 7 pm


Yaesu System Fusion Repeater
Receive frequency 146.500 MHz
Transmit frequency 147.500 MHz
+1000 split
PL 103.5

Reminders
SVARA Club meetings
start at 7 PM

Public Service Events
Midland MS Walk
Saturday April 28, 2018
Please contact Ron KC8YVF at kc8yvf@arrl.net if you
would like to work this event.
Frankenmuth MS Walk
Saturday May 12, 2018
Please contact Ron KC8YVF at kc8yvf@arrl.net if you
would like to work this event.

Up coming Contests
CQWW WPX SSB
Saturday March 24 - Sunday March 25
Check the contest calendar for more information