URGENT Need for Net Control Operators


We are in urgent need for two new Net Control Operator for the Monday Night Net.
If you are interested in being a Net Control operator, please contact
Ron, KC8YVF at kc8yvf@arrl.net ASAP.
Training can be provided and equipment if needed.

December Harmonic Newsletter
available now!

(11/27/17)
Update: Mike K8AVJ has taken over the Harmonic Newsletter
Thank you to Rob KC8IJN for all your hard work over the years.

ATTENTION SVARA Members !!!


The 147.240 Repeater has been migrated to the New Repeater System.
Testing and tuning of the system will take several days or more,
so please be patient while this process takes place.
Also the Echolink has been moved to
the new system as well.
Note 2 - We now have the 6 meter repeater online.
51.860 rx, 51.380 tx, PL 103.5 on the receive.
View new updates here


Antenna work at 911
November 11, 2017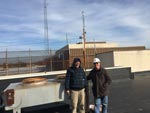 A new HF 80-10 meter folded di-pole
antenna was installed at 911.
Thanks W8DW, N8ERL and KC8YVF

New Saginaw Repeater Update (7/31/17)


New antennas take shape at Rosien Towers,
Davenport Manor and James Township
for the new repeater project.
Video of equipment and testing


Board Meeting Schedule
Location: Biggby Coffee, 3085 Bay Rd
Thursday December 14, 2017 @ 7 pm


The Yaesu System Fusion Repeater
on the air.
Receive frequency 146.500 MHz
Transmit frequency 147.500 MHz
+1000 split
PL 103.5

Reminders
SVARA Club meetings
start at 7 PM

Public Service Events
Holiday in the Heart of the City
November 17-18, 2017
Join us for a night at the Saginaw Childrens Zoo
for our annual SantaGram celebration.
Come help fill out the SantaGrams for the children
and Jim Wade will be present again this year.

Up coming Contests