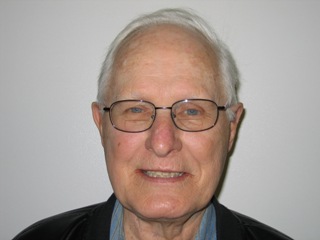 William L. Dolson
1931-2009
W8CWD

DOLSON, William L. of Saginaw, Michigan. Beloved husband, father and grandfather passed away June 19, 2009, at Covenant-Harrison at the age of 77 years. Bill was born December 20, 1931, in Saginaw to the late Wellington and Florence (Hartman) Dolson. He served in the U.S. Navy during the Korean War. He married Mary Lou Evers December 11, 1953; she survives him. He worked for 20 years as an electrician for Delphi and was a member of Union Local #467. He was an amateur radio operator for over 50 years. He helped to found the Saginaw Valley Amateur Radio Association. He enjoyed hunting and fishing especially when his grandchildren went with him. He was a member of the Korean War Veteran's Association, the NRA and the Bridgeport Gun Club. He was a regular at Fuzzy's for coffee. Bill talked to everyone. He often declared that he never had a bad day-some were just better than others. He had a wonderful sense of humor even right up to the end. Besides his wife he is survived by his children: Emilee Lake, John Dolson, James (Jan) Dolson; grandchildren: Kyle, Connor, Erin; sister, Dorothy Dolson; brother, Don (Ruth) Dolson; special nieces Rachael and Joanne Dolson; and many nieces, nephews and many extended family members. He was predeceased by his son, Dennis. Cremation has taken place. A Memorial Mass will be held at 10:00 a.m. Monday, June 22, 2009, at St. Mary's Cathedral, 615 Hoyt. Fr. Jim Bessert will officiate. Friends may call at the church on Monday from 9:00 a.m. until the service. In lieu of flowers memorial contributions may be made to the Saginaw Rescue Mission.
---
"Bill was a partner in a firm which produced one of the first Propagation prediction programs available to amateur radio operators. The name of the firm was Base(2)Systems and it produced the first graphic output of propagation predictions. This program was known as the "Maximum Usable Frequency Plot" or "MUFPLOT". Versions were available for the Apple, Commodore and IBM PC systems.

Prior to the release of MUFPLOT the one or two competitors had tables of numbers which were quite confusing to many potential users. Bill's son Jim designed a graphical output which led to many favorable reviews. MUFPLOT was purchased by individuals from around the world and at least one U.S. agency. The algorithms it used for its kernal operations were derived from research done at the Naval Ocean Systems Center and by the British government. MUFPLOT incorporated both E layer screening and Maximum Usable Frequency algorithms. Because these governments had expended considerable effort to create the algorithms, MUFPLOT obtained a level of prediction performance unsurpassed by competitors.

MUFPLOT received favorable reviews in most amateur radio publications including such standards QST, CQ and the Canadian Amateur. Mr. Dolson's partners in Base(2)Systems included his son Jim, his wife Mary Lou and Joe Turner, K8CQF. At the time of his death, Bill's amateur radio call was W8CWD. However, during his activity as a partner in Base(2)Systems, Bill held the amateur radio call K8DDV."