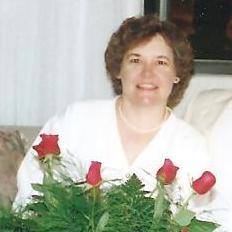 Janet R. Turner
1948-2015

Janet R. Turner, of Saginaw, Michigan passed away in her home, surrounded by loved ones on November 27, 2015.
This child of Francis E. and Josephine McCliggott, was born on February 24, 1948 in Alma, Michigan. She married Joseph M. Turner in 1970. He survives her as does her mother Josephine, a daughter Lisa Turner McBride, daughter Paula (Michael) Turner-Bommarito, and grandchildren; Kionna, Drew, Adrian, Mia, Gabrielle and Julian; her sisters Beverly A. Ryan and Patricia J. Hardt; many nieces, nephews, cousins and other relatives.
A 1966 graduate of Pinconning High School she worked at Defoe Ship Builders in Bay City, Michigan. Later, she joined an insurance investigation firm. Following marriage, she became a homemaker raising her daughters and caring for nieces Diane and Kathy Jo George. To sustain her family and help with education, she became a secretary for the Public Libraries of Saginaw. Ever reserved, few knew Janet played music for her church and served fellow employees as a Service Employees International Union, Local 466M representative and a contract negotiator. Among her greatest achievements was being a person who worked to ensure the bonds of family and friends would remain strong during her life. She organized and hosted gatherings for relatives and friends.
She thoughtfully remembered birthdays and various anniversaries. Janet embodied selflessness, humor, kindness and generosity.
Visitation will be held at the St. Andrew Catholic Church Campus of Christ the Good Shepherd Catholic Parish, , 612 N. Michigan Ave., Saginaw, MI 48602 on Friday, December 4, 2015 from 2:00 p.m. until 5:30 p.m. and from 7:00 p.m. until 9:00 p.m., with a prayer service at 7:00 p.m.
Visitation will continue at St. Andrew Church on Saturday, December 5, 2015 from 10:00 a.m. until time of Funeral Mass, 11:00 a.m. A meal will follow in the St. Andrew cafeteria.
Interment will take place at St. Maryís Cemetery, 11 Mile Road, Mt. Forest Township, Bay County, Michigan, following the reception at church.
The family wishes to express its heartfelt thanks to all those who so lovingly and regularly showered her with cards notes and other expressions of concern during her long battle with cancer. We especially acknowledge the tender care giving of Carol Unkle, Patricia Hardt, Kathy Jo George, Melanie Beyers, Kristen VanDyke, Emily Anaya, Bev Ryan, Susan Mau, Karen Krause, Kay Napora, Dale and Pat Latty, Geri and Ken Turner, Angie Turner, Bernice, Bob and Daniel Szczypka, Jim and Cathy Shijka, Tracy Kenney, Marge Jerome, Jeanne Conger, Sandy Laundra, Patricia Denno, Chelsea Dudek, Carmen Berlin, Candice Walker, Lori Ozar, Sarah Dodson, Sara Hadaway and Mission Sisters Margo Tafoya and Elaine Raymond.
The family expresses its gratitude to the skilled medical professionals who sustained Janet in her battles; especially the staff of, and Dr. Ernie Balcueva, the emergency room team at Covenant Hospital, Dr. Aaron Mammoser, and staff of the University of Michigan Hospital in Ann Arbor and the wonderful visits of Dr. Ruth Licht. Thank you to Mollie and Heather of Southern Care Hospice Services. Thanks to Mary, Drew and the entire staff of Prime Cut for their generosity and loving acts.
Flowers are welcome. Those wishing to make donations in Janetís name are asked to consider Mission Dell Sisters, www.missiondellsisters.com, the Underground Railroad, www.undergroundrailroadinc.org or The American Cancer Society, www.cancer.org or a charity of their choice. Those desiring to express care by sharing food in a communal experience after the Funeral Mass are invited to contact Ralph at (989) 790-6706 regarding specific details.
For information, please contact McIntyre Funeral Chapel, (989) 755-8277.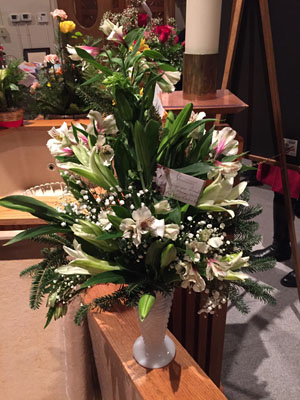 SVARA Flowers