SVARA Contests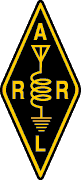 2015 ARRL International DX Phone Contest
The club station will not be open unless we get enough people to participate.
Please contact Ron, KC8YVF at kc8yvf@arrl.net if you are interested in working in this years contest.

The SVARA club station at the Red Cross will be open Saturday March 7, 2015 from 1 PM until 4 PM for the ARRL International DX Phone contest. This event is open to all club members and visitors and is a great way for new Techs to make their first international HF contact.. Come and join us for this fun event and operate from the 3 club stations.

Previous years 2013, 2012, 2011, 2010, 2008, 2007, 2006, 2005